Relational Junction Provides Rapid Integration with NetSuite and Oracle Autonomous Data Warehouse, Enabling Enhanced Business Intelligence Using Oracle Analytics Cloud
Sesame Software's Relational Junction Data Management Suite provides rapid integration with NetSuite, Oracle Autonomous Data Warehouse (ADW), and more than 100+ other cloud applications and databases. All connected data sources can be moved into any analytical database, (such as Autonomous Data Warehouse) to be used by Oracle Analytics Cloud for instant access to your business data.
After just a few minutes of setup, Relational Junction replicates all your applications and databases into a high-performance ADW data warehouse, enabling robust business intelligence. As new data becomes available, Relational Junction updates your data warehouse, so your data is always fresh.
What is NetSuite?
NetSuite is the world's leading provider of cloud-based business management software with multiple options to connect to your data. Thus, NetSuite helps companies manage core business processes with a single, fully integrated system covering ERP/financials, CRM, eCommerce, inventory, and more.
What is Oracle Autonomous Data Warehouse?
Powered by Oracle Database, Oracle Autonomous Data Warehouse provides unbeatable performance. Built-in adaptive machine learning eliminates manual labor for administrative management.
What is Oracle Analytics Cloud?
Oracle Analytics Cloud empowers business analysts and consumers with modern, AI-powered, self-service analytics capabilities. In addition, the capability also allows for data preparation, visualization, enterprise reporting, augmented analysis, and natural language processing.
Why Store NetSuite Data into Autonomous Data Warehouse (ADW)?
Deeper Analytical Insights
Extracting the data into ADW allows the data to be utilized by powerful BI tools, such as Oracle Analytics Cloud, in a deeper meaningful manner
Retain Historical Data
Storing data in ADW ensures past records are kept intact, allowing for historical trends, which is a feature only possible with a data warehouse solution
Versioned records provide a complete audit trail of all changes
Complete 360 View of Corporate Data
Using one data warehouse to view many sources
Providing a complete data model of your entire company
Challenges of Accessing Your Data in NetSuite
Direct access to NetSuite data is not possible
The SuiteTalk and SuiteAnalytics components of the SuiteCloud framework enable integrations of NetSuite with other on-premises or cloud solutions
While SuiteTalk provides the ability to access NetSuite data and business processes through an XML-based API, it requires skills such as Microsoft .NET or Java to build integrations
Not practical for non-developer users
Alternative methods exist for extracting the NetSuite data, such as Sesame Software's Relational Junction.
How Relational Junction Extends NetSuite
Sesame Software's Relational Junction's Data Warehouse Builder provides an instant data warehouse for NetSuite. Not to mention this enables scalable data integration that improves the reliability and performance of reporting and analytics. Create a local data warehouse that is a mirror of your NetSuite data. Fault-tolerant architecture that helps you get your NetSuite data consistently to your data warehouse and preferred BI tool with zero data loss.
With our patented technology, Relational Junction speeds up your implementation time, making your data warehouse actionable within minutes. By integrating data from external and internal sources, organizations are provided with a database that gives 360-degree access to their most important data. Thus, data teams will be able to make day-to-day decisions and plan long-term without any issues.
Ease of Use
NetSuite data is extracted directly into ADW by configuring credentials for NetSuite and the ADW database. Not to mention, there is no data modeling required. The database will automatically create custom fields. Also, one job request can also retrieve all NetSuite data.
Fastest Possible Data Integration
Relational Junction is the quickest solution for loading NetSuite data into ADW. In addition, Sesame has patented algorithms to extract large datasets by time-slicing the data. XML record data is queried efficiently with Relational Junction by using views for lists. Relational Junction uses views for lists Relational Junction also supports saved searches.
Connect to ADW Now Using Relational Junction
Relational Junction is ADW certified and you can learn more on how to create a connection to Oracle Autonomous Data Warehouse using Relational Junction.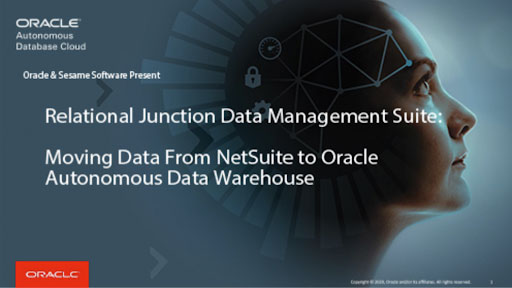 Watch the Oracle-sponsored demo video that shows how simple it is to move data from NetSuite to ADW using Relational Junction, and how you can instantly access OAC for advanced analytics.
Additionally, Oracle has recognized Sesame Software for bringing "ground-breaking" solutions to the Oracle Cloud Marketplace to support critical data management and analytics use cases. Relational Junction was highlighted as one of the key innovative solutions that integrates well with Oracle Cloud Infrastructure's high-performing compute, storage, and database services to power Big Data and analytics projects.
Want to Learn More?
You can request a demo with one of our data experts or check us out on the Oracle Cloud Marketplace!
Author: Crystal Duarte, Chief Marketing Officer, Sesame Software